APPETIZERS
Prosciutto Wrapped Shrimp 9.00
Grilled shrimp wrapped in prosciutto ham with a passion fruit mustard and cumin honey.
Bruschetta 6.50
Crusty French bread, rubbed with garlic and topped with fresh mozzarella, tomatoes, basil and olive oil.
Sausage Bruschetta 8.00
Louie's Italian Sausage, smoked tomatoes and mozzarella on crusty French bread.
Calamari Fritti 8.00
Lightly breaded and fried calamari with smoked tomato aioli.
Bloody Mary Mussels 13.00
Mussels steamed in a spicy tomato broth with vodka. Served with house baked foccacia.
Tacos 13.00
Fried shrimp Or Braised pork on top of napa cabbage slaw, avocado, pico, and queso fresco.
Cheese Curds 12.00
Hand breaded deep fried Ellsworth white cheddar cheese curds with chipotle ranch.
This & That 15.00
A sample platter of Sausage bruschetta, Classic bruschetta, prosciutto wrapped shrimp, and calamari.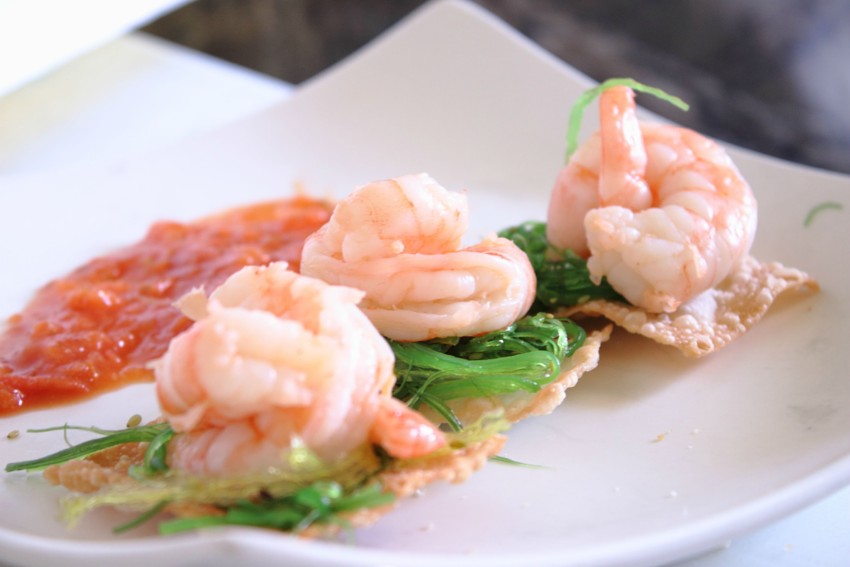 SALADS
Add grilled chicken, steak, salmon, scallops, or shrimp to any salad.
Bistro Salad 12.00
Baby greens tossed in our homemade balsamic vinaigrette and topped with
Treasure Cave blue cheese, pears and toasted walnuts.
Half Salad 6.00
Avocado Chicken 16.00
Romaine lettuce, roasted chicken, avocado, red onion, cilantro, tomatoes, queso fresco, and layered with crispy tortillas tossed in our chipotle ranch.
Half Salad 8.00
Caesar Salad 12.00
Romaine lettuce tossed in Caesar dressing with tomatoes, Parmesan cheese, & grilled focaccia.
Half Salad 6.00
SANDWICHES
Sandwiches are served with kettle chips. Upgrade to beer battered French fries or homemade onion rings.
Bistro Burger 15.00
Half pound ground steak patty topped with cheddar, braised pork, bacon, and a fried egg on a brioche roll.
Philly Cheesesteak 14.00
Half pound ground steak patty topped with cheddar, braised pork, bacon, and a fried egg on a brioche roll.
Cumberland "Philly" 14.00
Louie's Italian sausage topped with fried peppers, onions, and deep fried cheese curds on a hoagie.
Roasted Chicken 14.00
Herb Roasted chicken, crispy prosciutto, avocado, spinach, tomato, and provolone on a brioche roll.
PASTA
Served with choice of soup or salad. Vegetarian red sauce available upon request.
ENTREES
All Entrees are served with our homemade focaccia bread. Your choice of soup or dinner salad. Choice of baked potato, Classic potato gratin, Parmesan risotto, Cranberry apple wild rice, French fries, or Garlic fries and our vegetable of the day.
Scallops 24.00
Huge Massachusetts Day-boat scallops seared in cast iron and finished with a citrus beurre blanc.
Tilapia 16.00
Baked tilapia topped with avocado and grapefruit butter sauce.
Shrimp 18.00
Jumbo shrimp served either pan seared with garlic and herbs, grilled, or tempura fried.
Salmon 19.00
Delicious grilled wild sockeye salmon topped with seared tomatoes olives and capers.
Seafood Risotto 25.00
Grilled shrimp, grilled scallops, mussels, calamari, and tilapia simmered in a lobster stock risotto.
Seafood Jambalaya 24.00
Classic creole jambalaya with Andouille sausage, shrimp, scallops and oysters. *Limited Amounts
Duck 19.00
Pan seared maple leaf farmed duck breast with pomegranate molasses on an apple cherry compote.
Herb Roasted Half Chicken 18.00
Herb roasted half chicken on four mushroom risotto. * limited amounts
Chicken Piccata 16.00
Thin pounded chicken breast, dusted in flour and pan fried with a lemon caper white
wine sauce.
BBQ Baby-Back Ribs 18.00
1/2 rack of slow cooked tender baby-back ribs covered in the Bistro's special BBQ sauce.
Full rack 28.00
Pork Chop 22.00
Bone in grilled jumbo pork chop on roasted pear with
caramelized onion and treasure cave bleu cheese.
Grilled Tenderloin Kabobs 23.00
Grilled beef tenderloin skewers with peppers and onions served
on a portabella mushroom stuffed with cheddar mashed potatoes. Finished with sweet soy
and horseradish cream. (Limited amount)
Ribeye 29.00
Grilled 12oz choice ribeye steak with a red wine and herb butter.
Steak Frites 18.00
5oz Grilled beef sirloin steak topped with red wine demi-glace and fried sweet and sour shallots
10 oz. 30.00
(Feel free to substitute potato choices)
Cavatelli 16.00
Homemade cavatelli pasta with spinach, artisan mushroom blend, artichokes, smoked tomatoes, and crispy prosciutto in a light cream sauce.
Garlic Chicken Alfredo 16.00
Fettuccine and roasted chicken tossed with fresh herbs in a roasted garlic Alfredo.
Rigatoni Calabrese 16.00
Stove pipe pasta in a zesty tomato sauce with grilled Louie's Italian sausage and fried peppers.
Shrimp Scampi 18.00
Authentic scampi style jumbo shrimp sautéed with butter, white wine, fresh lemon, tomatoes, garlic and herbs on a bed of linguini.
Chicken Fusilli 16.00
Roasted chicken, spinach, artichokes, mushrooms, tossed in a chicken jus.
Puttanesca 15.00
Linguine tossed with tomatoes, capers, kalamata olives, fresh herbs, red sauce, and olive oil.